Enjoy the amazing benefits of CBD oil in your favorite comfort food while keeping it healthy with our paleo banana nut bread recipe! And it is delicious!!!!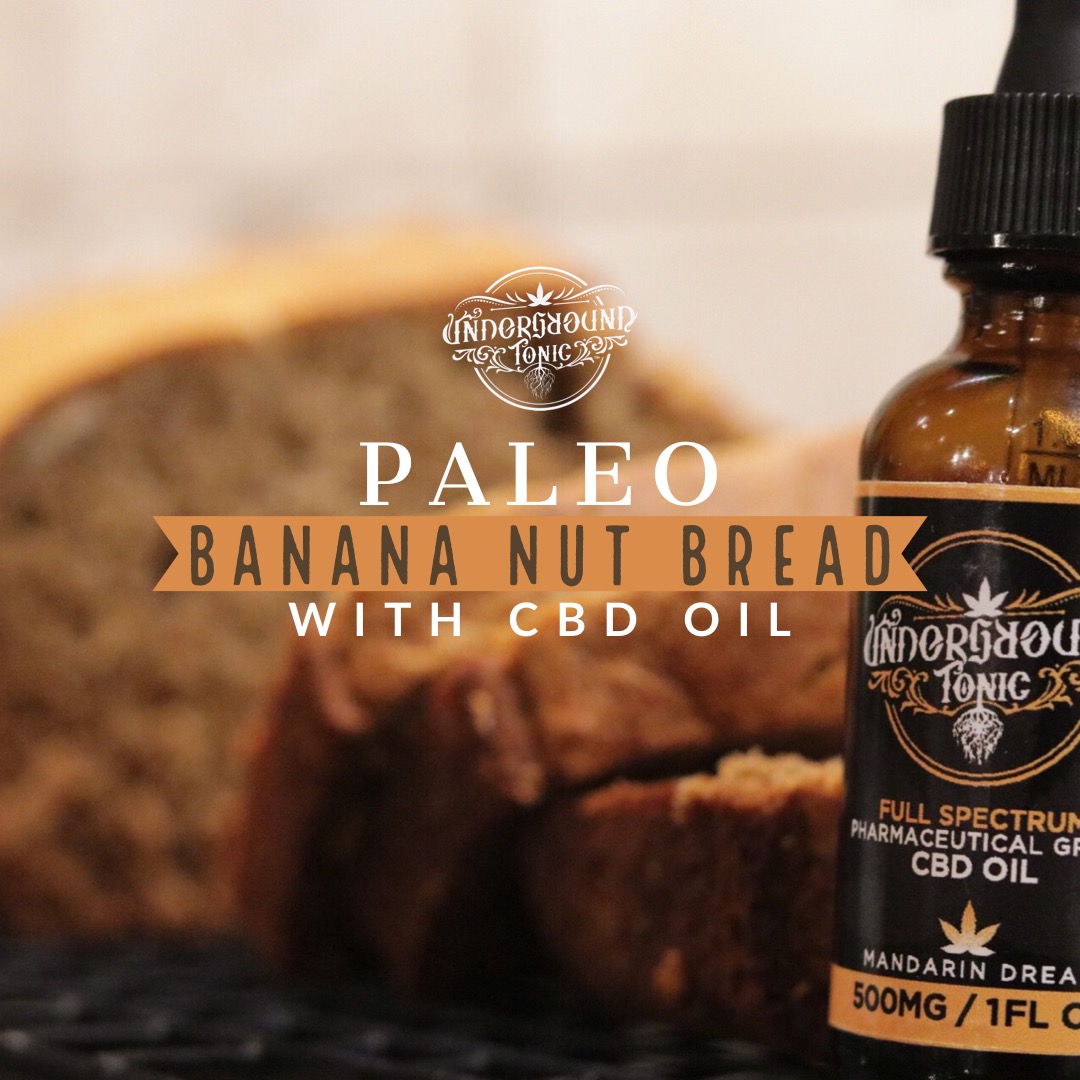 Here's our CBD Infused Paleo Banana Bread Recipe:
Ingredients:
2-3 Overripe Bananas
1/2 Cup Honey
1 Egg
1 Tsp Vanilla
1/4 Cup Coconut Oil
100mg CBD
1 1/2 Cup Paleo Flour
1 1/4 Tsp Baking Powder
1/2 Tsp Baking Soda
Dash Of Ground Cinnamon
1/8 Tsp Salt
1 Cup Dark Chocolate Chips
1/2 Cup Chopped Walnuts or Pecans(Optional)
Instructions:
Preheat oven to 350 degrees F. Line an 8×4" bread loaf pan (you can use a 9×5" pan but your loaf will be thinner and baking time will be less) with parchment paper and grease. Set aside.
In a small bowl combine paleo flour, baking powder, baking soda, salt and cinnamon). Set aside.
In a large, glass mixing bowl mix together coconut oil, CBD, mashed banana, honey and vanilla extract.
Add egg and stir until smooth.
Add dry ingredients to wet ingredients and mix until completely combined.
Gently mix in chocolate chips and nuts or sprinkle on top.
Pour batter into prepared pan and bake for 40-50 minutes, until top is set and a toothpick inserted in the center comes out clean.
Let cool in the pan for 5 minutes before gently removing the loaf from the pan to a wire rack to cool.
Enjoy!
*Side Note: Dosage of 100mg will differ per strength of tincture. So if you use the 250mg tincture it will be 12ml, 500mg tincture will be 6ml, 1000mg tincture will be 3ml, and 1500mg tincture will be 2ml.
This recipe makes 10 servings / each slice is 10mg.